Find Your Self-Culture
By Victoria Lorient-Faibish MEd, RP, CCC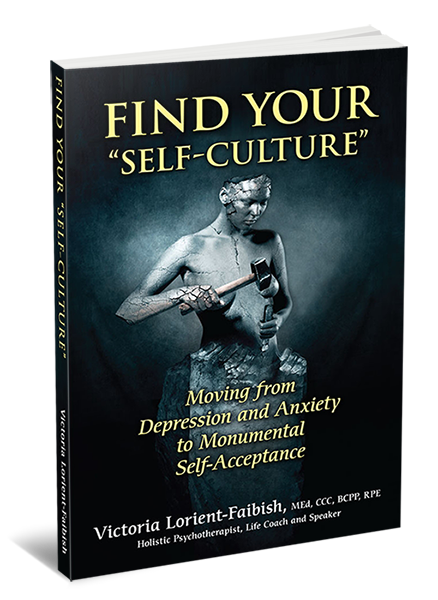 There is a paradigm shift going on right now. It is beckoning you to awaken to the monumental real self within—your "Self-Culture"! If you have not yet found your self-culture—your authentic, instinctive self—you are not living the life the Universe intends for you, and you may be entrenched in a cycle of feeling unhappy, guilty, negative, trapped and anxious.
The planet needs us to unearth the profound joy that lives inside so that we have the disposition to give of ourselves to others. But we cannot do this without first filling our own cups. Find Your "Self-Culture" takes you on a journey of case studies, exercises and teachings from Victoria Lorient-Faibish's twenty years of working with clients in her busy practice as a holistic psychotherapist.
Print: $28.19
(Including Shipping and Handling)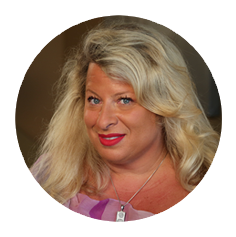 Welcome to my world where limitless
possibilities can be reached!
My name is Victoria Lorient-Faibish. I am a Registered Psychotherapist (RP) with the College of Registered Psychotherapists of Ontario. I am also a Relationship Expert. I hold a Masters degree in Educational Psychology (MEd) and I am a Certified Member of the Canadian Counselling and Psychotherapy Association (CCC) as well as a member of the Ontario and American Polarity Therapy Associations (BCPP Board Certified Polarity Practitioner). 
I've been in practice since 1990 and in addition to my traditional psychotherapy training I have over 8 years of training in eastern philosophy body-centred modalities including Polarity Therapy, Reiki, New Decision Therapy and Craniosacral. I offer an East meets West, holistic approach to psychotherapy, that I call Holistic Psychotherapy, in which a foundational process is the framework for profound self awareness and transformation.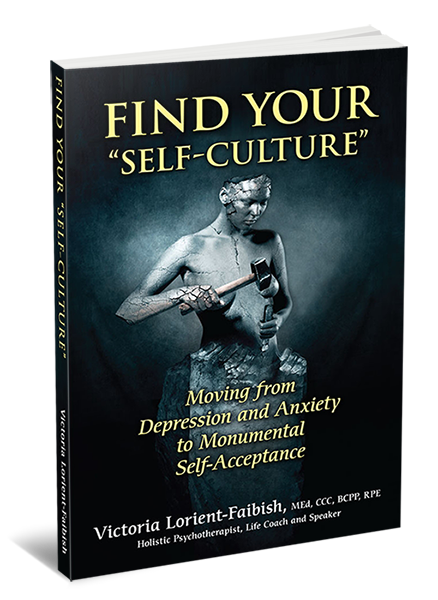 When you find your self-culture, you will:
Unearth the real you!
Listen to your soul's voice.
Move beyond depression and anxiety holistically.
Rewire your brain so that you can embrace profound joy.
Design the life you were born to live.
Transform you inner bully into a supportive coach.
Learn how to set healthy boundaries with the people in your life.
Heal the hurt child within.
Find forgiveness by moving past shame, anger and guilt.
Understand the codependent motivations that hold you hostage.
Break the cycle of family dysfunction now!
Find monumental self-acceptance!
Table Of Contents
Introduction
Chapter One:
Finding Your "Self-Culture"
Chapter Two:
Beginning the Journey
Chapter Three:
Understanding Change
Chapter Four:
Family-Culture Challenges
Chapter Five:
Family Culture: Guilt and Anger
Chapter Six:
Shame, Shame, Shame!
Chapter Seven:
The Hurt Child and the Critical Parent
Chapter Eight:
The Bully versus the Coach
Chapter Nine:
Getting in "Right" Relationship with Self and Life
Chapter Ten:
Listening to the Hidden Messages in Negative-Pattern Behavior
Chapter Eleven:
Categorizing Friendships: Put People Where They Belong
Chapter Twelve:
Mastering the Art of Healthy Love Relationships
Chapter Thirteen:
Commitment Phobia
Chapter Fourteen:
The Codependent Life
Chapter Fifteen:
Anxiety: Coping with a Goliath of Our Time
Chapter Sixteen:
The Power of Forgiveness
Chapter Seventeen:
What Is Your Relationship with Money?
Chapter Eighteen:
Your Two Voices Within
Chapter Nineteen:
Breaking the Cycle of Dysfunction
Appendix I:
Deep Relaxation Exercise
Appendix II:
Reparenting Yourself
Appendix III:
Exercise for Developing Your Self-Culture
Appendix IV:
Exercise for Anchoring New Neural Pathways
Appendix V:
Visualization to Transform Your Inner Bully into a Supportive Coach
Appendix VI:
Self-Comforting Hugging Exercise
Appendix VII:
Dialogue with Self While Eating Exercise
Appendix VIII:
Grounding Exercise
Print: $28.19
(Including Shipping and Handling)
Orders outside Canada and the USA are subject to shipping costs. Please
 contact Victoria
 for more information on shipping outside North America.
Consider the electronic version if you reside outside of Canada or the USA
Buy the Digital Version Now (eBook)
Some quotes from the book!
The Spiritual Warrior
"Finding your self-culture is hero's work. I liken it to the journey of a warrior who is preparing for battle. There is no violence in this battle, but there is a plan of attack and a methodology that you need to employ to complete the journey. There are many forces out there that can dissuade you from being who you truly are. But no permanent change can occur without discipline, commitment and diligence, and because we tend to learn more profoundly through pain, I wish you the gift of despair! This may sound cruel, but pain is the great motivator, and people tend to be more teachable when they are in despair."
Selfyness
"Yes, the journey does involve you; however, you cannot help others unless you are filled with vitality yourself, and so I encourage an attitude of selfyness. Selfyness involves the consistent act of listening deeply to your true inner voice and allowing it to be louder than all other voices or opinions. It is personalized self-care. Unless you focus on yourself first, your attempts to give to others from an empty vessel will inevitably result in burnout."
The Key To Healing
"Whatever ails you, whether it be depression, anxiety, addiction, unhappiness, relationship issues or any other emotional disharmony, finding your self-culture is key to healing. There is no doubt that brain chemistry, nutrition, spirituality, support, cognitive changes and discipline are part of the recipe for success in the reversal of chronic mental disharmony, but the journey to find and live your self-culture is essential to being a balanced adult."
Selfy versus Selfish
"I like the made-up word selfy instead of selfish, which means being concerned only with advantages for oneself without regard for others. You may feel that pursuing your self-culture will make you appear to be mean, selfish and unkind. Yes, the journey does involve you; however, you cannot help others unless you are filled with vitality yourself, and so I encourage an attitude of selfyness. Selfyness involves the consistent act of listening deeply to your true inner voice and allowing it to be louder than all other voices or opinions. It is personalized self-care. Unless you focus on yourself first, your attempts to give to others from an empty vessel will inevitably result in burnout."
Awareness Is The Key
"You need to be aware of your old beliefs, habits and thoughts to be able to catch them. And if you don't catch them and challenge them, they will hang around even while you are moving toward embracing your self-culture. They will scream to be fed in a last-ditch effort to remain alive. You can liken this to trying to come off sugar. When you begin, the sugar cravings can be intense, and it takes discipline to not give into them. Similarly, you need mental discipline to not give into your long-held negativity."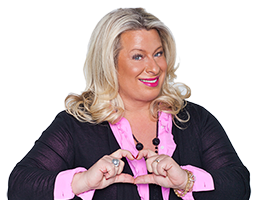 Join my mailing list and download a free guided meditation